Alliance Launches Global Efficiency Coalition to Address Climate Change
By Ben Somberg
June 12, 2019
• 0 Comment
The Alliance to Save Energy on Wednesday launched a new global coalition for advancing energy efficiency to address climate change. The announcement came as the Alliance convened efficiency stakeholders from around the world to kick off the 12th annual Energy Efficiency Global Forum in Washington.
The new EE Global Alliance (EEGA) comprises government, corporate and NGO leaders working to raise the profile of energy efficiency in international energy and climate discussions, with a goal of more quickly and deeply implementing efficiency solutions commensurate with the urgency of climate change.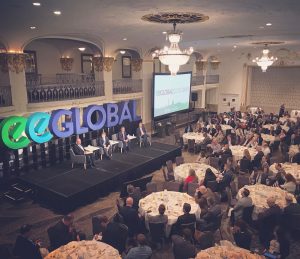 "With the urgency of climate change, it is now a global imperative that we realize the full potential of energy efficiency. The challenge today is one of pace and magnitude. Accelerating these proven solutions at scale matters," said Alliance to Save Energy President Jason Hartke. "This new coalition intends to ensure we move faster and invest more by showing our leaders around the world – including here in the U.S. – that the most effective way nations can drive down carbon emissions, while also strengthening their economies and becoming more competitive, is with energy efficiency."
The International Energy Agency has found that efficiency can account for more than 40 percent of the required carbon reductions required to meet the goals of the Paris Agreement – but significant policy efforts and investment are needed to increase the scale and speed of implementation to make this happen.
The EEGA steering committee will be led by representatives from a diverse slate of governments, NGOs and private companies, including Canada, Mexico, Morocco, International Energy Agency, Clean Energy Ministerial, International Partnership for Energy Efficiency Cooperation, California Energy Commission, Rocky Mountain Institute, Ceres, Global Environment Facility, The Climate Group, World Resources Institute, International Copper Association, Alliance to Save Energy, Danfoss, Johnson Controls, Exelon Utilities, NY Power Authority,  Legrand, Trane, World Business Council for Sustainable Development, Dentons, and FIA Foundation, along with Energy Foundation China, European Alliance to Save Energy, Australian Alliance for Energy Productivity, Efficiency Canada, and Deutsche Unternehmensinitiative Energieeffizienz e.V. (DENEFF).
Odón de Buen, Director General of Mexico's National Commission for the Efficient Use of Energy, highlighted the need for immediate action on energy efficiency. "We all need to double down, to recreate our narrative, to make evident what is not visible, and to involve as many people and organizations as possible to look individually and collectively for the many benefits of energy efficiency," he said.
Joyce Henry, Director General, Office of Energy Efficiency, Natural Resources Canada, said: "Saving energy is the most affordable way to cut pollution and make our communities healthier and industries more cost-effective. Countries like ours need to work collaboratively with partners like the Alliance to Save Energy, along with industry leaders, other NGOs and international organizations to create meaningful and lasting change."