At EE Global Forum 2021, 'Ambition' Is the Word of the Day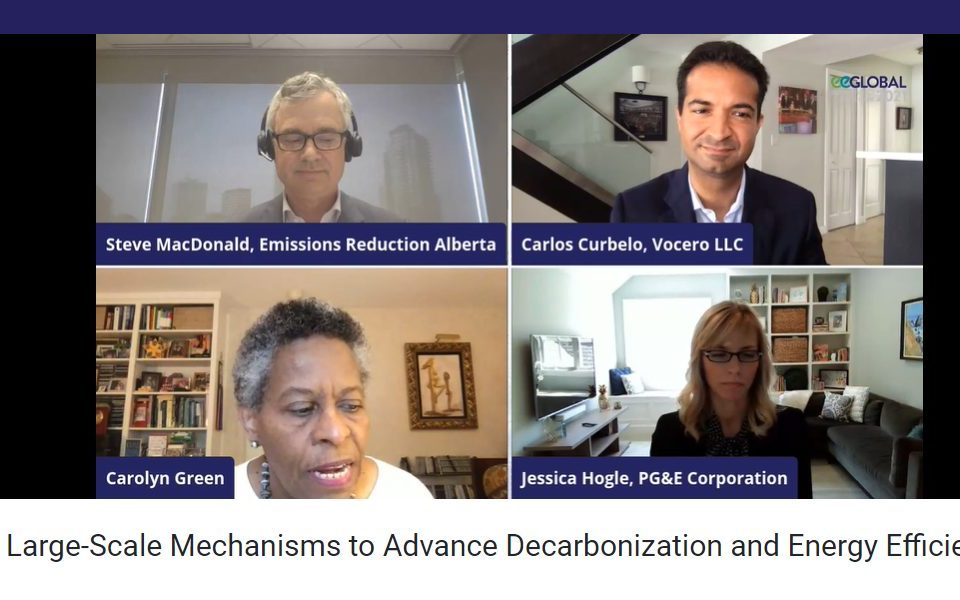 By Ellie Long, Alliance to Save Energy Communications Associate
With 11 educational sessions, nearly 40 speakers, and even one virtual cocktail class, it would be hard to sum up EE Global Forum 2021 in a single word. But this year's signature event – which brought together leaders in government, business, utilities, and NGOs to drive action on energy efficiency – had a clear winner: ambition.
Panelists agreed that we're at a transformative moment for our energy system, and that there is a need to Build Back Brighter – recognizing not only the need to rebuild after the devastating health and economic impacts of the past year, but the need to build an energy system that is more sustainable, productive, and equitable than ever before. It's going to take ambitious action to get there – or as Jigar Shah of the Department of Energy said in his opening remarks, we're going to need to "think bigger." Here are some other ways big thinking was on display at EE Global Forum 2021.
Equity
One of the biggest challenges for achieving a brighter energy system is ensuring it is a system that works for everybody, not just the most fortunate – or rather, a system that meets the needs of the most vulnerable communities first. Two Executive Dialogues at EE Global were dedicated to equity issues. In the "Achieving Nationwide Energy Efficiency Access," Brian Prusnek of Southern California Gas, Holmes Hummel of Clean Energy Works, and Mark Turner of Ameresco explored some of the available mechanisms to expand access to energy efficiency programs, emphasizing the need to start with community needs and work from there. In the second, Deputy Assistant Secretary for Climate Policy at the Department of Transportation Andrew Wishnia, Co-Founder of EVNoire Terry Travis, and NYSERDA President and CEO Doreen Harris discussed making an equitable transition to electric vehicles, starting with better awareness and outreach, and incentivizing charging infrastructure build out.
However, equity considerations were far from limited to those two dialogues, as nearly every panel acknowledged shortcomings, and underscored that this moment of ambition would be lost we didn't prioritize equitable outcomes. Capturing this was Georgia Power President and Alliance Chairman Chris Womack during a happy hour 'Ask Me Anything,' saying, "I think it's appropriate that equity continues to come up in everything we do… we're in this moment in time where we can really make a difference around the issues of equity, and the issues of race."
Global Climate Policy
Along with the need to build a more equitable energy system, the climate crisis demands us to take more ambitious action. A morning session moderated by Carolyn Green of EnerGreen Capital Management dove into the different approaches for achieving wide-scale decarbonization; former Florida Congressman Carlos Curbelo pointed out that bipartisan consensus will be necessary for the most high-impact policies; Emissions Reduction Alberta CEO Steve MacDonald emphasized global collaboration and how the U.S. and Canada could learn from each other; and Vice President of Federal Affairs and Corporate Sustainability at PG&E Jessica Hogle explained the role utilities can play in driving decarbonization.
In the afternoon, Business Council for Sustainable Energy President Lisa Jacobson led a panel taking an even closer look at the challenges and solutions – financial, political, and educational – on creating a lasting trajectory for efficiency deployment with Metrus Energy's Bob Hinkle, SEForAll's Brian Dean, and the Consumer Technology Association's Doug Johnson. This was further illustrated in a case study on the City of White Plains in New York. Mayor Tom Roach sat down with New York Power Authority's Sangeeta Ranade and Vennela Yadhati as they discussed the city's pathway toward greening its energy – including the importance of policy in helping municipalities take the leap and achieve the economic and environmental benefits of efficiency.
Active Efficiency
Active Efficiency is about the future of energy efficiency – optimizing energy use in a system that getting smarter every day. However, policy and market structures aren't necessarily keeping up with technology evolution, and our Active Efficiency Collaborative is looking to change that. Andrew McAllister of the California Energy Commission, Dr. Pekka Hakkarainen of Lutron Electronics, Tanuj Deora of Uplight, and Curtis Wynn of Roanoke Electric examined some of the policy gaps in a morning session, while the afternoon turned to market optimization with Jeff Hamel of Google, Ed Barbour of Guidehouse, Rachel Huang of SMUD, and Elizabeth Murphy of AVANGRID – all with a common theme of placing customer needs first and collaborating across stakeholders.
Turning Talk Into Action
"Let's do it" was a frequent refrain during the Forum, and we were lucky enough to have two members of Congress with us to break down legislation that could make significant headway in pushing efficiency across the economy. In a session moderated by Willdan's Adam Procell, Rep. Peter Welch (D-Vt) said the Main Street Efficiency Act is "win-win-win." This legislation, which Rep. Welch will be introducing in the House soon, would provide no and low-cost efficiency retrofits to small businesses (and prioritize minority-owned businesses) by leveraging existing utility demand side management programs, or, in the words of PSEG's Rick Thigpen, "using what works."
Rep. Lisa Blunt Rochester (D-Del.) then outlined the Open Back Better Act in a session with NASEO President David Terry and Trane Technology's Paul Camuti. Rep. Blunt Rochester introduced the Act in the House in March to make critical public buildings safer and more efficient, with 40% targeted to disadvantaged and environmental justice communities. "If it's going to be a brighter open back, then it needs to be equitable as well," she said.
If you missed a session at the Forum, keep an eye out for recordings, which will be available at this link later this week. We look forward to seeing you – hopefully in person – at EE Global Forum 2022. In the meantime, let's get to work Building Back Brighter with ambitious action on energy efficiency this year!