Bolstering Lives and Livelihoods through Energy Efficiency, Resilience, and the Open Back Better Act of 2021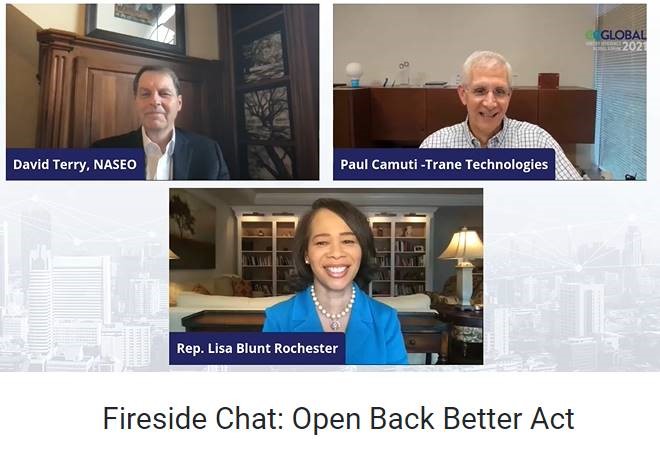 By David Terry, Executive Director, NASEO
As America recovers and reopens from the COVID-19 pandemic, my organization, the National Association of State Energy Officials (NASEO), has joined dozens of partners, including the Alliance to Save Energy, in calling on lawmakers to invest in the resilience, health, safety, and performance of our nation's mission critical public facilities by passing the Open Back Better Act of 2021.
The Open Back Better Act would use existing programs, such as the U.S. State Energy Program, to provide energy efficiency and resiliency investments to mission-critical facilities such as hospitals, schools, water treatment, fire stations, and community centers. It would prioritize investments in high-need areas, including environmental justice communities suffering from decades of marginalization and underinvestment. It would be an ambitious – albeit long overdue – step in responding to the extreme weather events and climate, health, and infrastructure challenges facing Americans today.
At EE Global Forum 2021 last month, I had the distinct privilege of sharing the virtual stage with one of the bill's sponsors, Congresswoman Lisa Blunt Rochester (D-Del.), who summarized the value proposition with great clarity: "transitioning to a cleaner and more energy-efficient future is not only necessary to protect human health and the environment, but it is also an enormous opportunity to create a more equitable economy."
Open Back Better would use a combination of state leadership and oversight, private financing, and grant funding to deploy capital where and how it is needed most. In developing the program, Congresswoman Blunt Rochester and Senator Tina Smith (D-Minn.), who introduced the bill in the U.S. Senate, recognized an important reality: some of the highest-impact upgrades we can make to America's buildings and facilities are not necessarily those with a short payback period. Therefore, the bill encourages states receiving Open Back Better funds to utilize proven public-private financing mechanisms such as Energy Savings Performance Contracts, or ESPCs, to catalyze private investment in energy efficiency, renewable energy, and other smart building improvements that can be paid back through savings on utility bills.
And it's not just about energy savings: Open Back Better funds would be strategically deployed by states to carry out projects that improve both the energy efficiency and resiliency of mission-critical state, local, and federal facilities. This injection of funds, state innovation, and private capital would unlock new public-private partnerships, create jobs, reduce emissions, and restore lives and livelihoods at this critical juncture in the U.S. economy and amidst the extreme weather conditions impacting every region of the nation.
The past year-and-a-half has shone a stark spotlight on the power of resilience and community. Congress has the opportunity to help states and the private sector invest in the mission-critical facilities in all of our states and communities that have been so crucial in keeping people connected, safe, employed, and educated – spaces that will undoubtedly continue to be vital safeguards throughout future natural disasters and other crises. We at NASEO encourage U.S. lawmakers to answer this important call.
About NASEO
Formed by a coalition of state governors in 1986, NASEO facilitates peer learning among state energy officials, serves as a resource for and about state energy offices, and advocates the interests of the state energy offices to Congress and federal agencies. Through NASEO's Affiliate Membership program, businesses, trade associations, nonprofits, and other organizations have the opportunity to connect with, learn from, and communicate their unique insights to the states. To learn more, visit www.naseo.org or contact sfazeli@naseo.org.