EE Global 2019 Recap
June 19, 2019
• 0 Comment
At Energy Efficiency Global Forum, Uniting To 'Double Down' In The Face Of The Climate Threat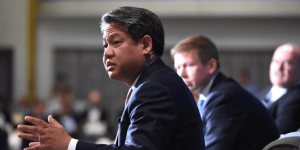 Government officials, business leaders, and non-profit advocates from around the world gathered in D.C. this week for our 12th annual Energy Efficiency Global Forum (EE Global). Throughout the event, global energy efficiency leaders had the chance to exchange ideas, make new connections across sectors and borders, and deepen commitments to doubling down on energy efficiency. Here are just a few highlights from the past two days.
Hartke Kicks off Forum with New Transportation Infrastructure Proposal

The Forum began with a Tuesday evening reception at LEED Gold-certified Audi Field. Alliance President Jason Hartke announced a new policy platform for modernizing transportation infrastructure to reduce energy use.
The proposal, released by the Alliance and members of the 50×50 Commission, gives Congress a blueprint to update longstanding transportation programs to adapt to the changes sweeping the sector – while achieving more efficient, sustainable, and accessible mobility.
Introducing the EE Global Alliance
During Wednesday's opening plenary session, international public and private sector leaders highlighted the critical need for doubling down on energy efficiency to meet global energy and climate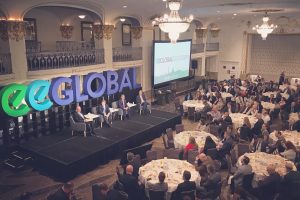 goals, and celebrated the launch of the Energy Efficiency Global Alliance. The discussions centered the increasingly dynamic nature of efficiency and the need for scaling up collaboration at all levels.
In his keynote address, Daniel Simmons, DOE's Assistant Secretary for Energy Efficiency & Renewable Energy, described the importance of flexibility in improving building efficiency; and Christian Zinglersen, Head of the Clean Energy Ministerial Secretariat, emphasized the increasingly dynamic interplay between efficiency and power systems. Jules Kortenhorst, CEO, Rocky Mountain Institute; Gil Quiniones, President & CEO, New York Power Authority; and keynote speaker Joyce Henry, Director General, Office of Energy Efficiency, Natural Resources Canada, urged increased collaboration among energy efficiency stakeholders. These comments were echoed by moderator Clinton Vince (Chair of Energy Sector, Dentons) and in the videotaped remarks of Odón de Buen (Director General of CONUEE, Mexico) and Andrew Steer (President and CEO, World Resources Institute). The speakers expressed enthusiasm about collaborating more closely, through their partnership in the EE Global Alliance, to ensure faster, broader implementation of energy efficiency solutions to drive economic prosperity and help mitigate climate change.
Tech Talks Bring Together Innovators from the Industry
In the four Tech Talks Wednesday, panelists delivered TED-style presentations, followed by discussions that allowed attendees the opportunity to ask key questions. In "Evolving Utility EE Programs in the Energy Cloud Era," moderated by Alliance Board Member Chris Womack, the panelists tackled one of the most challenging perennial aspects of energy efficiency: branding. The speakers concluded that we have a lot of space to grow: if we manage to deploy energy efficiency with better branding, it has enormous potential to scale up, because, as Rex Briggs concluded, energy efficiency "has a phenomenal story to tell."
Read highlights from the other Tech Talks, including "Energy Efficiency Policy: The First Solution for a 1.5° World?," "Doubling Down on Energy Efficiency," and "Keeping the Promise: Diversity in the EE Industry."
Building Global Momentum Toward Energy Efficiency Solutions
At a plenary luncheon featuring rapid-fire remarks from nine speakers representing a variety of companies and organizations, EE Global attendees were briefed on the creation of the new Demand-Side Energy Efficiency (DSEE) partnership, a public-private coalition that will support governments to realize the 3 percent annual energy efficiency improvements necessary to achieve the Paris Agreement goals.
Industry Leaders Discuss Latest Trends in Energy Efficiency
In several engaging sessions throughout the day, industry experts led innovative discussions on emerging trends. Read more about the sessions: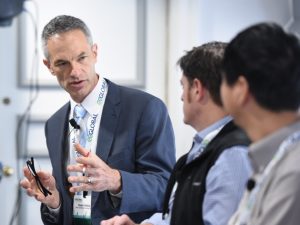 The Forum was chalk full of impactful conversations and reminded attendees that together, we can implement effective energy efficiency solutions to mitigate climate change and drive economic growth. Thank you to all the speakers, attendees, and sponsors for making the event what it was!