EE Global Day 1 Highlights
Opening Plenary Recap: The "Leaking Bathtub" and the Biggest Market in the World
The biggest market in the world. That's the opportunity businesses and governments have in transforming the global energy system, and energy efficiency should be center stage, speakers told Monday's plenary session.
"We need this pioneering spirit. We need a sense of exploration," said Dr. Bertrand Piccard, initiator and chairman of the Solar Impulse Foundation, who regularly emphasizes the pivotal role of energy efficiency in the success of his pioneering flight around the world without fossil fuels. Piccard said the world's approach to energy is like continuing to fill a leaking bathtub instead of fixing the leak. "We always want to produce energy when instead the goal should be to consume less," he said. But "it's clear that the biggest market today in the world is to replace the outdated systems we use with clean new technologies."
Other speakers echoed his call to action. "Energy efficiency is center stage," said Susanne Hyldelund, the Danish Ministry of Foreign Affairs state secretary for trade. "We need more global partnerships … and we need them faster."
The EE Visionary Award
Piccard was awarded this year's EE Visionary Award, recognizing outstanding contributions to the advancement of energy efficiency, for his efforts laun
ching the World Alliance for Efficient Solutions, which will be selecting 1000 solutions that protect the environment in a profitable way. The solutions will be presented to world leaders at the COP24 climate talks in December to encourage the adoption of more ambitious environmental targets and energy policies.
Innovation at Work
Plenary session attendees also heard quick "Take 10" presentations from corporate leaders at Microsoft, thyssenkrupp Elevator – MULTI, and E.ON-Denmark, a mobility company, about the work they're doing to develop these markets. Bert Van Hoof, a partner at Microsoft and an Alliance board member, noted that the world will have 1 million devices coming online per hour by 2020. Michael Cesarz, CEO of thyssenkrupp Elevator – MULTI, said globally we're constructing the building equivalent of a new Manhattan every day. This level of growth presents tremendous challenge and opportunity around managing energy consumption. Van Hoof said the key is "getting to scalable and repeatable solutions that are profitable and economically viable."
Intensive Learning Sessions Spur Conversations on Efficiency Trends and Opportunities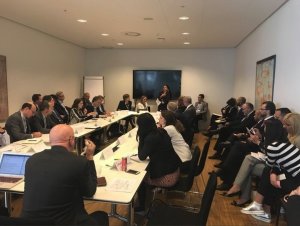 Earlier this afternoon, attendees spread across the state-of-the-art UN City campus for intensive learning sessions on various efficiency trends, with a focus on financing, investment and global markets.
During the session on "Spurring a Building Efficiency Movement: Connecting Global Platforms to Create Change," the Alliance and the World Resources Institute hosted a roundtable discussion on how the building efficiency community can leverage existing global platforms and partnerships to create an effective global building efficiency movement. Clay Nesler of Johnson Controls facilitated the discussion, challenging the roomful of public and private sector building efficiency experts and participants from international campaigns to define success, and to identify a pathway toward developing a strong political agenda to bring about transformational change for building efficiency.
Benoit Lebot (IPEEC), Jenny Calder (WWF), Anthony Eggert (ClimateWorks Foundation) and Mark Radka (UN Environment) described key characteristics of successful campaigns, including relevant messaging backed up by credible data and technical support; simple and achievable "asks"; and mutually reinforcing activities. Alliance President Jason Hartke discussed the need to address competing costs of capital; Gabby Dreyfus of the Kigali Cooling Efficiency Program challenged the room to "show me the lever" for motivating different audiences to support a building efficiency movement; and Bertrand Piccard of Solar Impulse and Carl Elefante of the American Institute of Architects responded, focusing on energy efficiency as a means to provide for human needs while delivering profits. The Alliance and WRI plan to host follow-up discussions over the coming months.
What's Coming up on Tuesday?
EE Global continues Tuesday with a full day of dialogue, starting with the morning plenary session on energy efficiency's role in the transition to a low-carbon economy, featuring fireside chats with energy leaders from Mexico, Canada, the European Commission, California, the International Energy Agency, Clean Energy Ministerial and our own Jason Hartke, the Alliance's new president. The plenary is followed by breakout sessions on everything from meeting the rising global demand for cooling to managing plug load and capitalizing on transportation trends in a connected world.