Efficiency Companies and Organizations Need to Take Big Steps to Improve Diversity and Inclusion
By Erin Mao
June 12, 2019
• 0 Comment
The new energy economy has been put forward as a solution to right the wrongs of traditional energy, by benefiting and being more inclusive of low-income communities and communities of color.
In an afternoon session, Danielle Deane-Ryan, Director of the Inclusive Clean Economy program at the Nathan Cummings Foundation, Paula Glover, President of the American Association of Blacks in Energy, and Carolyn Green, Founder and Managing Partner with EnerGreen Capital Management LLC, challenged industries and organizations in the efficiency field for struggling to keep that promise.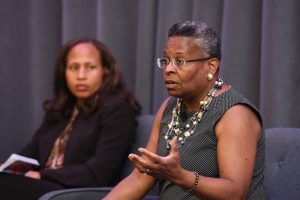 In planning for diversity, we need to be more mindful of inclusion – whereby energy efficiency companies and organizations are celebrating and using diversity as a strategic advantage. While this includes diversity of our employees, we need to look beyond that basic metric and expand to better representation – including advisers and messengers – by the very communities that are affected by the efficiency industry.
Energy efficiency companies and organizations are behind many other industries – such as government and academia – in measuring their diversity and inclusion and setting metrics for improvement. Data gathering and transparency is an important starting point. Then, companies can take concrete steps to broaden their networks:
Set measurable goals for executives to speak at diverse venues, so that connections are made that will facilitate more representative hiring and partner cultivation;
Look to local communities for speakers, partners, board members, and advisers, to expand beyond the 'usual suspects' of people called upon to present the diverse voice;
Ensure that diversity is not tokenized, so that people engaged at all levels – employees, board members, customers, and beneficiaries – feel welcomed and can readily identify a sustained commitment to inclusion.
This transparency and commitment will in turn help energy efficiency companies and organizations be competitive and retain talented staff and partners.