How Can Urban Efficiency Gains Be Expanded?
By Courtney Galatioto
June 12, 2019
• 0 Comment
If there's a will, there's a way. Today's Urban Efficiency panel explored how as urbanization increases – now including more than 80% of the U.S. population – cities can address growing climate urgency. Panelists from across sectors agreed that cities not only have a will, but a way – many ways, in fact – to drive meaningful efficiency impacts.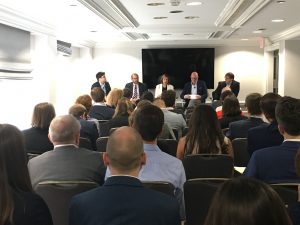 By interconnecting their energy efficiency, sustainability, and climate goals with their economic, affordability, and equity goals, cities are moving beyond component efficiencies to systems-level and district-wide energy savings. But smart use of data is key to maintaining this momentum, and transparency is needed to help ensure accountability.
The panel predicted that policy measures combined with market forces will need to drive the next phase of efficiency gains, from carbon trading to solving the tenant-landlord split incentive. Building designers, financing entities, and contractors will need to collaborate to increase the growth of net-zero buildings. Lastly, cities will need to keep sharing their approaches and lessons-learned, so the urban efficiency gains are globalized.