How Do We Measure Building Performance at the Systems Level?
By Mikelann Scerbo
June 12, 2019
• 0 Comment
Focusing on building systems is increasingly necessary to achieve deeper energy savings – and it requires going beyond efficiency at an individual equipment level, as well as achieving greater granularity than the whole-building level. In a morning session, panelists discussed how systems-level key performance indicators (KPIs) will be necessary tools for predicting, tracking, and assessing systems-level improvements.
Growing availability of data is improving how we can demonstrate, measure, and manage building performance, but there aren't yet widely accepted KPIs at the "systems" level. For designers to model system performance accurately and comprehensively, and for facility operators to know how their systems are performing and how to improve, we need to start collecting the right kinds of data – systems-level data – and analyzing it in a useful way.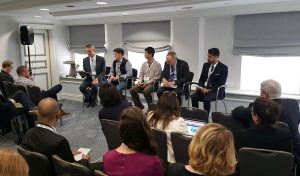 Collecting this data consistently at a large scale across the commercial buildings sector may involve codes and standards to ensure the proper sensors and controls are installed, panelists said. These systems must be capable of tracking systems-level KPIs, and systems-level interactions, for HVAC, lighting, and water heating systems in buildings. In addition, bench-marking efforts that are inclusive of systems-level assessments could help building owners determine when there are opportunities for improvement in their systems-level performance.
Successfully implementing the digital infrastructure to track systems-level KPIs will require "deeper collaboration between the physical world and the data/software world," as Aditya Pendyala of Mnubo said in the dialogue.
There's currently a gap between the simulated environment of building energy modeling and what's happening in the field. Systems-level KPIs offer the opportunity to provide greater insights for both operators and designers through both enhanced diagnostics and predictive modeling. That underscores the importance of ensuring that the data collected onsite is useful, and that there are clear procedures for operators to identify opportunities for improvement – and to act on them.