There is More than One Way to Cool a Warming World
By Alexander Ratner
June 12, 2019
• 0 Comment
How do we provide sustainable cooling in a warming world?  That was the question presented at the EE Global panel Innovative Solutions for Cooling a Warming World. Dr. Gabrielle Dreyfus of the Kigali Cooling Efficiency Program moderated a panel that brought together experts in policy, finance, and manufacturing to talk about how the rapid growth in demand for cooling in the developing world will impact efforts to address climate change.
We know that 2017 was a banner year for the installation of solar renewable capacity, with 97 Gigawatts added worldwide. At the same time 100 Gigawatts worth of cooling demand was added.  Clearly, there is a need to deliver cooling in a much more efficient way.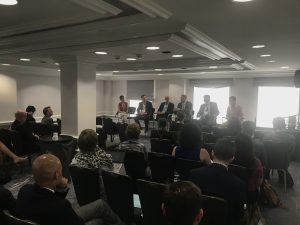 Panelists focused on emerging technology as a solution. Low warming refrigerants and energy efficiency innovations have the potential to decrease the strain that new and existing cooling capacity put on energy use. Right now, the tech exists to get many of those savings goals – and lots of capable products are already on the market. Cost is still a challenge, but research and development can address this barrier.
In some places, the challenge can be addressed by thinking of cooling differently. For example, in India the installation of energy efficient fans or brightly painted roofs can improve comfort without dramatically increasing energy use.
The finance experts stressed the importance of implementing frameworks that are replicable and demonstrable. Projects that can scale are the most desirable for investment. For example, a plan to refit 6,000 hotels is more valuable than one to refit 1 hotel. Fortunately, we are reaching an inflection point – the financial advantages of energy efficiency are much better understood, and the financial sector (especially firms with large real estate portfolios) now recognize the value of those investments.
Policies are important, but implementation is even more critical. About 100 countries have Minimum Energy Performance Standards (MEPS) – but only 25 have implemented them. This is especially important in the developing world, where codes and standards are less common and less enforced than they are in developed economies.
Panelists also discussed the global cooling prize, an initiative designed to encourage the development of new innovative technologies. To quote panelist Rushad Nanavatty of the City Renewables Center, "instead of looking for a needle in the haystack, you are trying to get the needle to find you."