Here's What I Just Told Congress About Energy Efficiency
February 18, 2021
• 0 Comment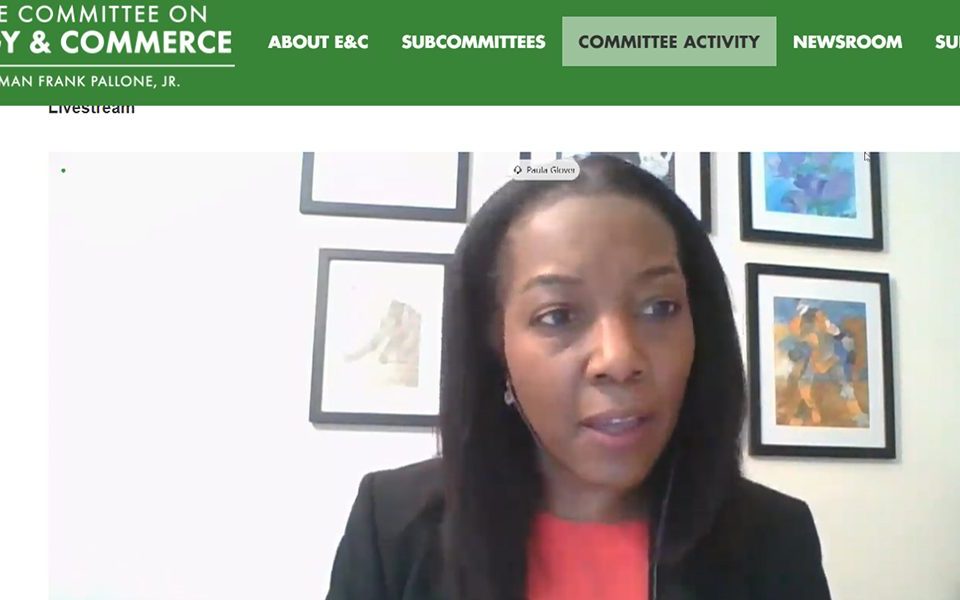 By Paula Glover, Alliance to Save Energy President
This is a pivotal time for energy efficiency in Washington with real momentum for doing something big on energy – necessitated by the economic losses of the last year and magnified by the threat of climate change. I believe the Alliance's policy solutions can go a long way in addressing this challenge, and today I had the opportunity to share energy efficiency's role and effectiveness with the U.S. House Committee on Energy and Commerce Subcommittee on Energy as a witness. A recording of the hearing, "A Smarter Investment: Pathways to a Clean Energy Future," is available to watch here.
In my testimony, I addressed what I personally see as the essential question of our time: How do we tackle the climate crisis in a way that uplifts every community? We cannot dream of a fair clean energy future unless we are thinking of the communities that could be harmed by the transition, as well as the communities that have already been harmed – communities where history tells us we need to be so much better at providing clean air, economic opportunity, and more affordable energy costs.
I see energy efficiency at the core of the solution. We can reduce energy costs for the hundreds of thousands of families struggling right now to pay their energy bills. We can create millions of jobs in the efficiency sector: well-paying, diversely skilled jobs that aren't limited by geography, and that with precise investment can be targeted to those who need them most – from rural towns in West Virginia to urban neighborhoods in Illinois. We can permanently reduce operating costs for businesses, with a focus on helping small businesses in disadvantaged communities recover from the impact of the pandemic. And we do this all while scaling up perhaps the fastest and most effective solution to climate change available.
This is what energy efficiency can accomplish – but we cannot unlock all these benefits, and we certainly cannot distribute benefits in an equitable way, unless we are proactively enacting the policies and programs needed to scale up our efforts. I am a solutions-minded person, so when testifying today, I highlighted exactly which areas Congress needs to step in. This includes big ideas like designing new programs specifically to meet this unique moment to act both on COVID-19 economic recovery and the threat of climate change. Because our small businesses are bearing the brunt of today's economic damage, we're working with Committee member Representative Peter Welch (D-Vt.) and others to launch a small business energy efficiency grant proposal, which would provide low and no-cost efficiency upgrades to small businesses to immediately and permanently lower their operating expenses. This means money they save can go directly back into their communities. We're also working with another Committee member, Representative Lisa Blunt Rochester (D-Del.), on a proposal to retrofit critical public buildings around the country to be more safe, resilient, efficient, and flexible – helping us to prepare for future emergencies.
We also need to strengthen the core energy efficiency programs at the Department of Energy, like appliance and equipment standards, building codes, and development and deployment of the next frontier of efficiency technologies (an area of work we like to call Active Efficiency).
I'm grateful for the opportunity to share these priorities with the full Committee today. I went into today's hearing with the intention of getting every Committee member just as excited and hopeful about the prospect of placing energy efficiency at the core of a clean energy future as I am – a lofty goal considering just how excited I am! This was a significant step in advancing efficiency in Congress, but I know the coming months will require more advocacy, more education, and more ambition to see much needed legislation reach the president's desk. Find out more about our priorities in our 2021 Policy Agenda, and for more on today's hearing, you can read my full written testimony and watch the recording.